BOOKKEEPING & ACCOUNTS
Managing the pennies and keeping you informed
In order to understand how your business is performing you need access to up to date figures you can rely on.
The Cottage Office team can take on as much or as little of your bookkeeping and financials as you require, from simply raising invoices to clients or paying bills, to maintaining full records in a complete accounting package.
We are also experienced in working with organisations of various shapes and sizes to develop tailored reports and systems to enable you to have quality information that is meaningful to you and your business.
Below is a sample of the bookkeeping services available:
Raising sales invoices
Sales ledger maintenance
Handling supplier invoices
Raising payments
Maintaining the cashbook and bank accounts
Raising journal entries
Accruals and prepayments
Account reconciliations
VAT management
Management accounts
Payroll processing
Complete financials solution
Here at The Cottage Office we have vast experience of many bookkeeping & accounting packages, including: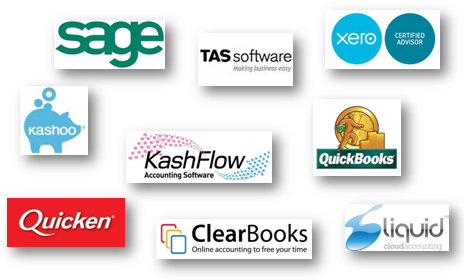 We have all of the above software available to use in-house – or are able to offer remote log-in services to your office computer – so we are able to offer you a complete bookkeeping and accounts solution.
What makes us qualified to look after your books?
Prior to starting The Cottage Office Ltd, Trudy had an extensive career in organisations of all sizes (from startups to multi-national corporations).  Her main area of expertise was within the finance departments, as well as business systems and business process design.
Trudy achieved Fellowship of the Institute of Certified Bookkeepers in August 1998, the Advanced Award in Bookkeeping in January 1999 and completed the ACCA Certified Accounting Technician qualification in February 2000.

Ok, so we're qualified – how do you know we'll deliver?
Naturally you want to feel confident that your financials will be handled with complete care and professionalism, and processed in a timely manner.
We treat all of our clients in the same way that we would want to be treated.  On engaging with us we become part of your team, partnering with you to support you and your business in achieving success.
You can read comments from current clients in the testimonials section of our site.
How does it work?
You collate all of your documents through the week or month.
You send all of your documents to us by registered post OR we arrange collection of your paperwork (within 10 miles of Winchester, Hampshire)
All documents are processed in the accounting system of your choice
Reports are created and uploaded to the online document store for you to access
You may also opt to have all documents scanned and uploaded to the online document store
Simple as that!
What packages are available?
Take a look at our bookkeeping packages page to see what's included
If you do not see your specific requirements listed, or you would like to discuss your needs in more detail, please contact us today.